Contains cards from the
Persona Series
.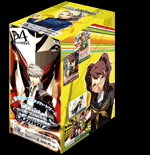 Each pack contains 8 cards.
Each box contains 20 packs, a play-mat and a rule-sheet.
The total amount of different cards is 100, with 16 different parallel rare cards.
A special Center Marker is included as a pre-order special for each box.
For the first print only, each box comes with 5 special Persona 4 Card Sleeves, and each carton(16 box) comes with one special Persona 4 cloth mat.
Card List
Edit
Yellow Cards
Edit
Green Cards
Edit
Red Cards
Edit
Blue Cards
Edit
---