戦場のこなた
 Translated Name: Battlefield Konata
Card No.: LS/W05-076
Rarity:RRR
Series: Lucky Star (Booster)
Side: Weiß
Type: Character
Color: Blue
Level: 1
Cost: 1
Power: 4500
Soul:
Trigger:
Special Attributes: {{Otaku,Manga}}
Card Text:

【永】 他のあなたの《オタク》のキャラ1枚につき、このカードのパワーを+500。

【自】 アンコール [手札のキャラを1枚控え室に置く] (このカードが舞台から控え室に置かれた時、あなたはコストを払ってよい。そうしたら、このカードがいた枠に【レスト】して置く)

Translated Card Text:

【Continuous】 For every other Character with 《Otaku》 trait that you have, this Card gains +500 Power.

【Automatic】 ENCORE [Send a Character from your Hand to your Waiting Room](When this Card is sent from your Stage to your Waiting Room, you may pay the Cost to place this Card back in it's slot in 【Rest】 state)

Flavor Text:

この世は常に戦争だよ

Translated Flavor Text:

This world is always at war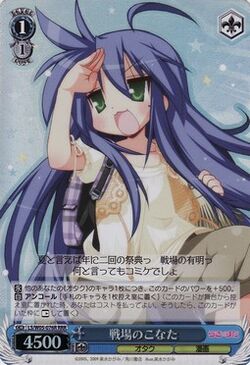 Card No.: LS/W05-076
Rarity: RRR
Series: Lucky Star (Booster)
Flavor Text:

夏と言えば年に二回の祭典っ 戦場の有明っ 何と言ってもコミケでしょ
Translated Flavor Text:

Twice a Year, during the Summer, they will always speak of the Dawn of the Battlefield, Comiket, no matter what.
Ad blocker interference detected!
Wikia is a free-to-use site that makes money from advertising. We have a modified experience for viewers using ad blockers

Wikia is not accessible if you've made further modifications. Remove the custom ad blocker rule(s) and the page will load as expected.